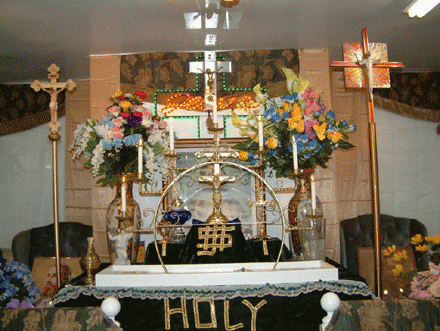 Candlestick (seven pronged) - Exod.25:31-37; Heb.9:2 Rev. 1:12; 4:5
The brief description of the Sanctuary shown above:
1.) 7-Candle Stand
2.) Arc Of Covenant
3.) Altar Lamp
4.) Altar Holy Water
5.) Golden Crucifix
6.) 2-Seats for Head of the church (Pastor and His Deputy). Also there are reserved seats in front of the Pastor and His Deputy for Superior Evangelists (this is not shown). All these are found in The Inner Altar. Whenever there is a Service, Conductor Of Service conducts inside The Inner Altar.
Click hear for -Biblical Justification
Altars at Celestial Church of Christ holds 7 burning candles. They are usually lit during Sunday (Lord's Day), New Moon services, Marriages and any other special Services. They all symbolizes the seven spirits of God. The Ushers typically lights the candles while singing the hymn "Kindle the light, divine from heaven above". The Altar and Church Sanctuary must be sanctified prior to lighting the candles and the service conductor MUST sanctify themselves, keeping off from all impurities for three days prior to the Lordís day or any other service day Exod.19:10-15. They should also be fully in Spirit as expected of Priests.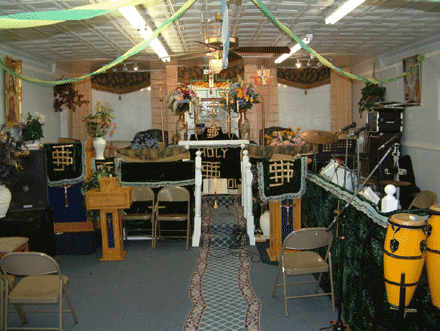 The Main Altar is where the Male Elders seats, also is The Pulpit where sermon is been delivered.

Outside of the Altar is the Rostrum on the right where Bible lesson is been read. The right side after the Altar is the Choir Stand.

Then the seating arrangement of all the members follows suit.