OBINTUARY

With Very Heavy Heart, Deep Regret and Grief
We Announced The Passing To Glory
Of Our Father

<![if !vml]>
<![endif]>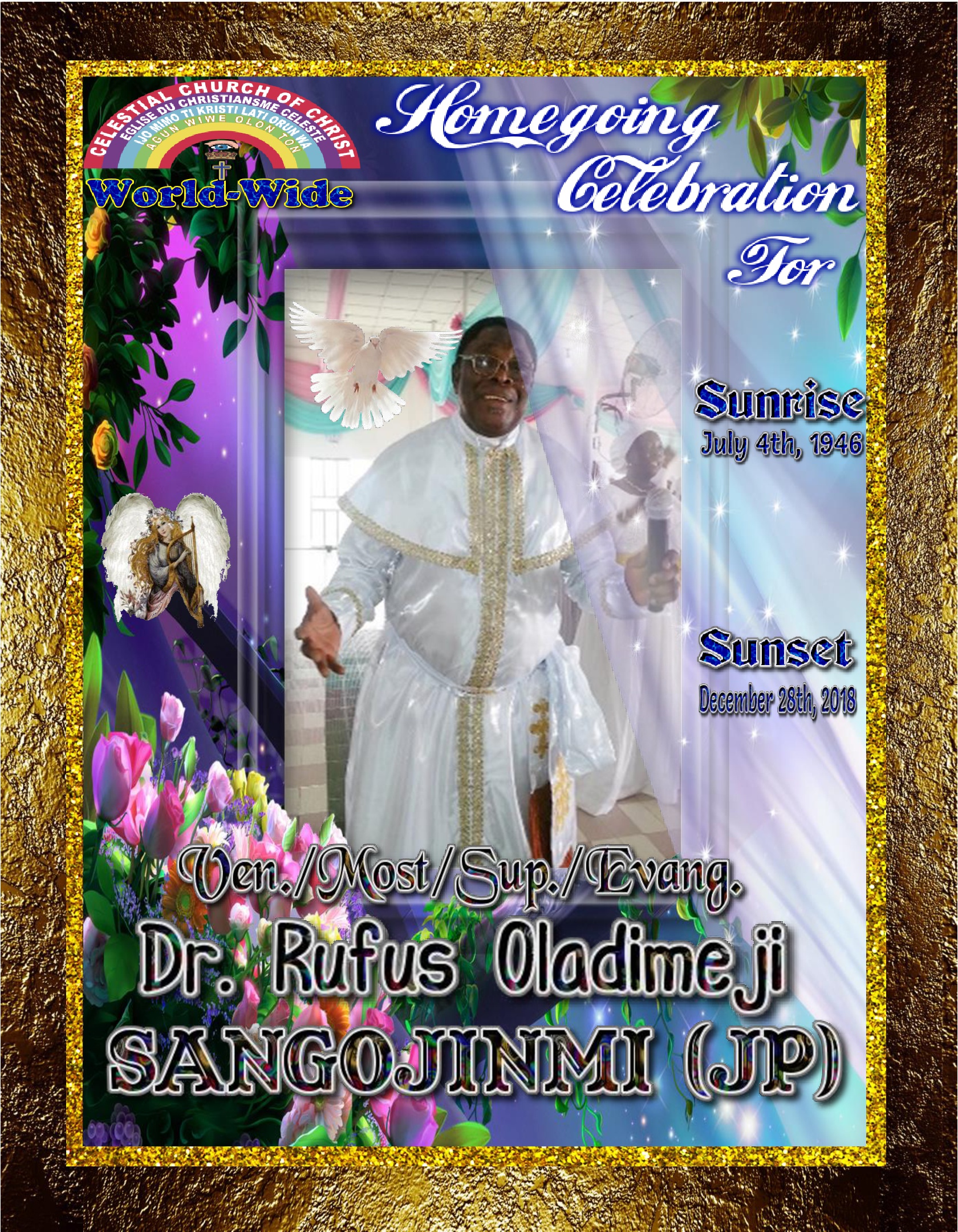 Ven. Most Sup. Evang.
Dr. Rufus Oladimeji
Sangojinmi JP
Whose Transition occurred
Friday, December 28th, 2018.
At the age of 72 Years.
We give a profound gratitude to God for his life well spent.
He is survived by Wife, Children, Grand Children, Sons & Daughters-In-Law, Aunts, Cousins, Nephews, and Nieces
May His Soul Rest in Perfect Peace!!!
Funeral Arrangements
SERVICE OF SONGS
DATE: Saturday, February 16, 2019
VENUE: CCC Washington Metro Parish -National HQ.
600 Chillum Place NW,
Washington DC 20011
USA
TIME: 5:00 PM.
DATE: Friday, February 22, 2019
VENUE: CCC Pretoria Parish 1 -Home of Possibilities
339, WT, Nkomo Street,
Pretoria West 0183
SOUTH AFRICA
TIME: 7:00 PM.
DATE: Wednesday, April 24, 2019
VENUE: CCC Army Barracks -Ibudo Iyanu
12 Oguntade Street
Abule Egba, Agege
Lagos, NIGERIA
TIME: 5:00 PM
WAKE-KEEP
DATE: Thursday, April 25, 2019
VENUE: CCC Army Barracks -Ibudo Iyanu
12 Oguntade Street
Abule Egba, Agege
Lagos, NIGERIA
TIME: 5:00 PM
BURIAL & ENTERTAINMENT
DATE: Friday, April 26, 2019
VENUE: His Residence
4 Olasangojinmi street
Oko Oba, Agege
Lagos, NIGERIA
TIME: 5:00 PM
THANKSGIVING SERVICE
DATE: Sunday, April 28, 2019
VENUE: CCC Army Barracks -Ibudo Iyanu
12 Oguntade Street
Abule Egba, Agege
Lagos, NIGERIA

CONTACTS
Sup. Evang. Leo Oloye JP

(240) 286-2796 -USA
MC Mercy Anuoluwapo JP
(240) 281-9367 -USA
NIGERIA CONTACTS
0802305463 / 08142687844