<![if !vml]>

<![endif]>
<![if !vml]>

<![endif]>
<![if !vml]>

<![endif]>
The Olaniyan Family announces with deep regret the passing away and in Loving Memory of our dear and beloved, Wife, Mother, Sister and Friend.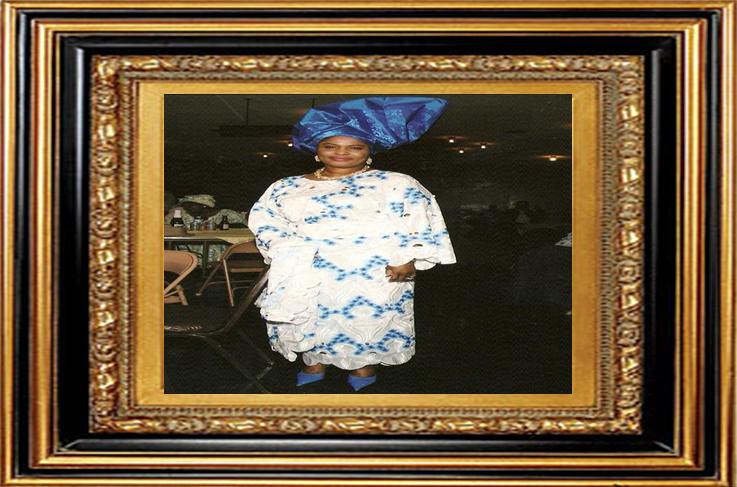 <![if !vml]>

<![endif]>
<![if !vml]>

<![endif]>
(Jan.5 1956 – July 24, 2008)
Who slept in the Lord on July 24th, 2008 after a brief illness.
We give a profound gratitude to God for her life well spent.

She is survived by
her aged Mother-Hajja Iyabo Akinbola
Husband -Prophet Paul Olaniyan
Children -Mrs. Mosunlola Adedoja Betiku
&
-Mr. Mustafa Olaseni Williams
and
Grand-Children -Farida Adesewa Adele
-Farid Adesanmi Adele
-Aris Adeniji Adele
May Her Gentle Soul Continue To Rest in Perfect Peace -Amen.
SUN RE O!!!

Click here for FLYER

<![if !vml]>

<![endif]>
Memorial Amisa Service In Her Honor
Will be performed by
Rev. Pastor Emmanuel Mobiyina Oshoffa
On
Date: Friday, September 5, 2008
Venue: Celestial Church Of Christ
Bilehou Oshoffa Miracle Land Parish
2009 W. Howard Street
Chicago, IL 60645. USA
Tel #: (773) 908-1641
Time: 5:00PM PROMPT!!!