<![if !vml]>

<![endif]>
PUBLIC ANNOUNCEMENT
The Oshodi Family announces with deep regret the passing away of our dear and beloved, Humble Wife, Mother, Sister and Daughter.
Wife of our Father in the Lord Evangelist SAMUEL OLUMUYIWA OSHODI -Shepherd, Revivalist, Shepherd-In-Charge Celestial Church Of Christ -Ayilara Parish, Surulere, Lagos, Nigeria.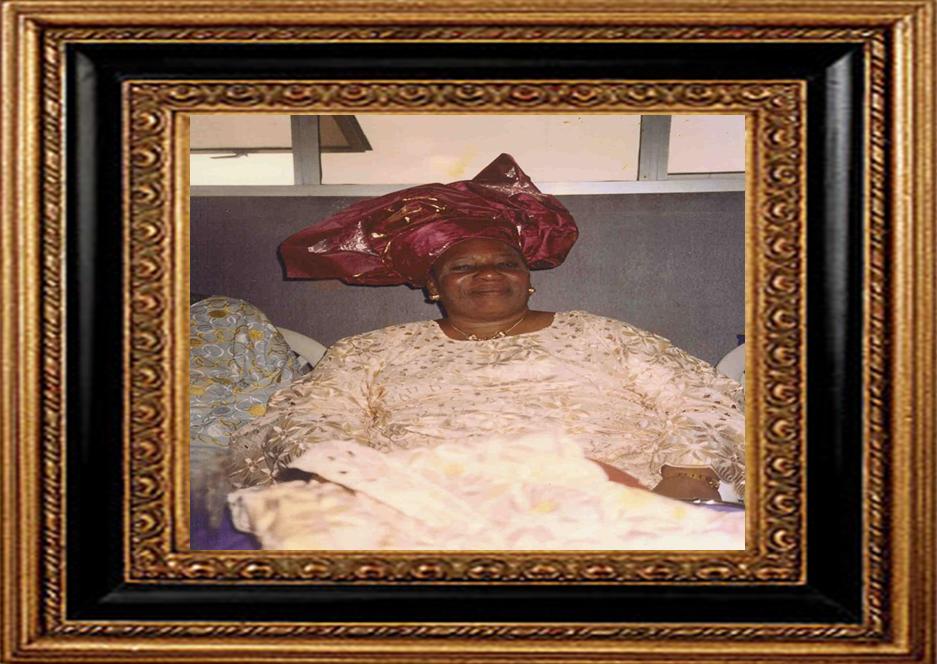 <![if !vml]>

<![endif]>
<![if !vml]>

<![endif]>
<![if !vml]>
<![endif]>
She was born in Ijebu Ode, Ogun State, Nigeria, West Africa on July 21st, 1945, Died in Hospital on Thursday, June 11th, 2009. At the age of 64 Years, after a brief illness.

We give a profound gratitude to God for her life well spent.

She is survived by Husband (Our Father in the Lord), Aged Mother, Seven-Children, Sisters, Brothers, Aunts, Cousins, Nephews, and Nieces, among who are:
Husband
Evangelist Samuel Olumuyiwa Oshodi
(Our Father in the Lord)
Mother
Mrs. Olayinka Adefowokan
Children
Lace Superior Yetunde Sarah Oshodi  

-UK.
Lace Superior Bukky Esther Shomide

   -USA
Temitope Margret Oshodi   -NIG.
 Lace Prophetess Funmilayo Deborah Shoyinka  -NIG  
Leader Samson Olugbenga Oshodi   -NIG 
Folashade Christiana Oshodi

 -UK
Oluwatosin Rebecca Oshodi  -

NIG
Siblings (Sisters and Brothers)
The Adefowokans
Grand-Children
Temitayo Ruth Adebayo
Pelumi Elizabeth Shobowale
Shedrach Oluwafemi Oshodi
Folake Sarah Shoyinka
Emmanuel Anuoluwapo Shomide
Olamilekan Abiola Shoyinka
Michael Olanrenwaju Omidiran
Daniel Oluwatoni Williams
Christiana Oluwafunmilayo Shomide
Sons-in-law
Superior Evangelist Tokunbo Shomide
Mr. Tunji Shoyinka
Mr. Tokunbo Kuti
Mr. Bode Williams
Mr. Kolawole Omidiran
Daughter-In-Law
Busola Olaleye
May her Soul Rest in Perfect Peace!!!
<![if !vml]>

<![endif]>
Service of Songs In USA
Celebration Of Life
Date: Saturday, June 27, 2009
Venue: Celestial Church of Christ
Divine Parish
1110 Newport Gap Pike
Wilmington, Delaware 19720,
USA
Tel.# (302) 563-6043
Time: 6:00PM
Service of Songs In UK
Celebration Of Life
Date: Wednesday, July 8, 2009
Venue: Celestial Church of Christ
Hephzibah Parish
Unit 10, Imperial Works,
Fountain Road, London N15 4QL
UK
Tel.# 0208 365 1648
Time: 6:00PM
Service of Songs In Nigeria
Celebration Of Life
Date: Wednesday, July 8, 2009
Venue: Celestial Church of Christ
Ayilara Parish
6, Ayilara Parish
Surulere, Lagos,
Lagos State, Nigeria
Time: 6:00PM
Christian Wake Keeping
Date: Thursday, July 9, 2009
Venue: Nigeria Army Band Corp Headquarters
Abalti Barracks
Western Avenue Ojuelegba
Surulere, Lagos, Nigeria
Time: 6:00PM
Funeral Service and Burial
Date: Friday, July 10, 2009
Venue: Nigeria Army Band Corp Headquarters
Abalti Barracks
Western Avenue Ojuelegba
Surulere, Lagos, Nigeria
Time: 10:00AM Prompt
Burial (Interment)
Cemetery
Date: Friday, July 10, 2009
She would be laid to rest at:
Venue: VAULT AND GARDENS/ IKOYI
Federal Radio Corporation of Nigeria
(FRCN) Close
Off Federal Secretariat Road
Ikoyi, Lagos Nigeria

Contacts:
RSVP
Superior Evangelist Kunle Hamilton -NIG
Tel. #: 08033028029
Tope Oshodi -NIG
Tel. #: 08035228141
Lace Sup. Bukky Oshodi -USA
Tel. #: (302) 328-5550
Lace Prophetess Funmilayo Shoyinkan -NIG
Tel. #: 08023022628