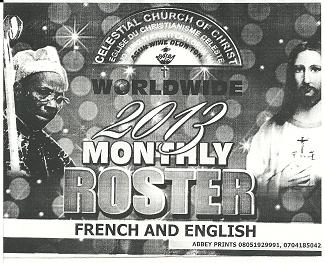 26th July, 1999 was a great day in the life of Celestial Church of Christ when the Lord God renewed his covenant with the Celestial Church of Christ with the sign of the rainbow which appeared in the compound of Rev. A. A. Bada (Pastor and Supreme Head of C.C.C. Worldwide) from 8 a.m. till 6 p.m.
The first appearance as a mark of covenant was the time of Noah (Gen 9:8-17).
The rainbow of covenant appeared to Rev. S. B. J. Oshoffa (Pastor and Founder of C.C.C. Worldwide) at the beginning of his ministry to the world and at the end when his body was lying in state at the Lagos City Hall and during his burial at Imeko on 19th October, 1985.
The appearance of the rainbow at the end of this century is a confirmation of God's covenant with His people for the next millennium!

Look down from thy Holy habitation, from heaven, and bless thy people "Celestial" and the land which thou hast given us, as thou didst swear to our father, a land flowing with milk and honey... Deut. 26:15
2012 Bible Lessons --CCC Worldwide
2011 Bible Lessons --CCC Worldwide
2010 Bible Lessons --CCC Worldwide
2009 Bible Lessons -CCC Worldwide
2008 Bible Lessons -CCC Worldwide
2007 Bible Lessons -CCC Worldwide
2006 Bible Lessons -CCC Worldwide
2005 Bible Lessons -CCC Worldwide
2004 Bible Lesson s -CCC Worldwide
2003 Bible Lessons - C.C.C. Worldwide